Finding Centre: Paintings by Alice Kelsey and Sarah Pollock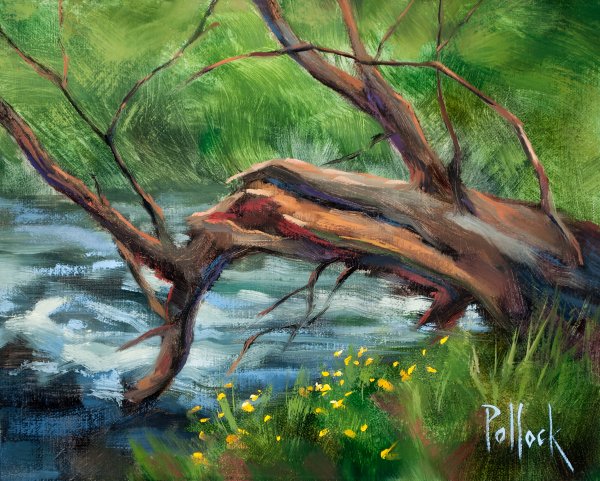 Local artists Alice Kelsey and Sarah Pollock are partnering with Clearwater Conservancy to showcase a series of brand new original paintings that focus on the intersection of rural and downtown areas in Centre County.
FINDING CENTRE will be on display at the State College Framing Company and Gallery from November 3rd until December 4th, 2017. The opening reception will take place on Saturday, November 4, 2017 from 4:30pm to 7:30pm and a portion of the proceeds from sales during the reception will be donated by the artists and by the gallery to benefit Clearwater Conservancy. FINDING CENTRE will explore the Centre region's unique balance of natural areas, farms, forests and picturesque communities. Pollock and Kelsey are working with Clearwater Conservancy to highlight successes in shaping local development while preserving our area's beauty. Founded in 1980, Clearwater Conservancy is a land trust dedicated to promoting conservation and restoration of natural resources in central Pennsylvania through land conservation, water resources protection, and environmental outreach to the community. Together with its conservation partners, the conservancy has generously allowed Pollock and Kelsey to paint on location at properties it has conserved to capture inspiration for their artwork, including
Buffalo Run Farm, Eagle Field, and Everhart Farm. Using different mediums and styles, Pollock and Kelsey are creating works by painting together outdoors en plein air as well as by working on larger pieces in their studios. The exhibition will feature between 12 to 15 new works by each artist.
By combining their viewpoints and distinctive styles, the FINDING CENTRE exhibition celebrates the treasures of our natural resources and community, and the importance of collective stewardship. Says Kelsey, "Our artwork arises from connection to and appreciation for the land around us. Gathered together in the FINDING CENTRE exhibit, our colorful and expressive local landscapes will spark visitors' awareness and appreciation of the importance of stewardship of open space and natural areas." Pollock sees the exhibition as a bridge to the broader community, "The opportunity to partner with Clearwater Conservancy on FINDING CENTRE has been a wonderful
way to learn more about our area's natural history while looking ahead to a bright future that balances land preservation with growth. I believe this exhibition will showcase the stunning natural beauty that our area offers within easy reach of every resident."
Both artists are national award-winning, full-time professional painters with long-
standing interests in land conservation and outdoor activities. Kelsey was recently selected by the Palmer Museum of Art as a featured artist for the museum's Gala Event, and her work has been exhibited in solo shows at the Pennsylvania State University, The Bellefonte Art Museum, and Lancaster Galleries, as well as an Invitational Exhibit at the Art Association of Harrisburg. Pollock began her career as an artist for Walt Disney Feature Animation. For the past decade she has exhibited her artwork at top-tier juried outdoor art shows throughout the East and Midwest, including events in Philadelphia, New York, Bethesda, Milwaukee and Chicago. She has also exhibited in galleries in Pennsylvania and New Jersey. She has served on the board of the Maryland Pastel Society and taught classes for the Art Alliance of Central Pennsylvania. The State College Framing Company and Gallery has served our area for over twenty years as a premier gallery and custom framer in central Pennsylvania. Gallery owner
John McQueary looks forward to sharing the FINDING CENTRE exhibition with new and returning clients.
About the Artists: Alice Kelsey grew up in Chester Springs, Pennsylvania. She received a B.A. degree from Hamilton College, focusing on biology and art, and an M.D. degree from Michigan State University. Today, she is a full-time artist working primarily in oil and pastel in a colorful and expressive abstract impressionist style. Kelsey's work is exhibited regularly and receives awards in national juried exhibitions, and is recognized with signature membership in the Maryland and Central Pennsylvania Pastel Societies. For more information, visit: www.alicekelsey.com Sarah Pollock grew up in DeForest, Wisconsin. She earned a B.S. in Art from the University of Wisconsin-Madison. Pollock is a full-time artist who paints in oils with a colorful and contemporary style of realism. Pollock's artwork has been featured in the Pastel Journal and she's won awards in national juried exhibitions. She is a member of the Mid-Atlantic Plein Air Painters Association and an associate member of the Oil Painters of America. She exhibits in juried outdoor art shows throughout the East and Midwest. For more information, visit: www.sarahpollock.com
About the Gallery: The State College Framing Company & Gallery opened its doors in October of 1995 with the ideals of providing a high quality product and a high level of service in a warm, inviting environment. The gallery displays local and regional artists throughout the year.
https://framingstatecollege.com/wp-content/uploads/2019/01/sarah-pollock-spring-creek.jpg
481
600
John McQueary
https://framingstatecollege.com/wp-content/uploads/2019/02/the-State-College-Framing-and-Gallery-top-Logo_r.png
John McQueary
2017-09-09 19:53:53
2019-04-29 19:31:25
Finding Centre: Paintings by Alice Kelsey and Sarah Pollock