About The State College Framing Company
&

Gallery
The State College Framing Company and Gallery opened its doors in October of 1995, founded in the ideals of providing a high quality product and a superior level of service in a warm, inviting environment reflective of the products and services provided.
Today, more than twenty years later, these ideals are still the same. We strive to provide all our customers and all projects with the highest level of service — whether we're framing a child's drawing, shadow boxing a signed jersey, or framing an original O'Keefe painting, we treat each person and each project with the utmost care.
I personally invite you to stop by the shop and gallery, take a look around, say "hi," and see how we can help preserve and present your treasured works of art for a lifetime.
— John McQueary II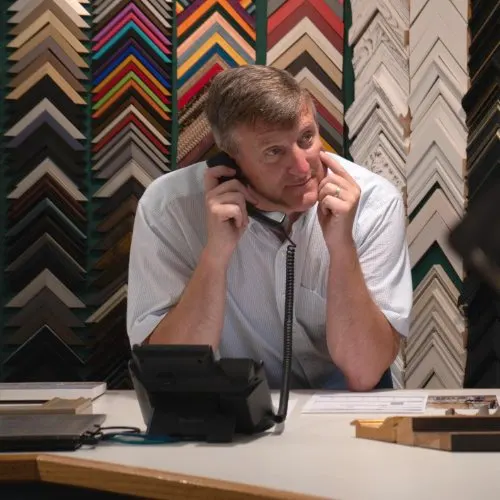 John McQueary II
Born and raised in Durham, North Carolina, John McQueary II moved to State College in 1981 and graduated from State High in 1985. He attended Penn State's School of Engineering for two years before he began working for a local frame shop. After taking the certified, professional framing exam in 1992, he launched The State College Framing Company and Gallery in October 1995.
From the very beginning, John opened the shop with the intention of being the area's premier gallery and custom framery. With 3,000 square feet of space and an impeccable reputation, the shop is regarded by most in the industry as without equal in central Pennsylvania.
"We strive to provide our clients with an all-encompassing experience of service, quality, and professionalism. We use only the best materials and refuse to cut corners in the presentation and conservation of the products our clients bring to us to frame."
– John McQueary II
Jeffrey Muthersbaugh
Growing up in Centre County surrounded by an extended family of farmers, artists, and crafts people, Jeffrey Muthersbaugh found that he had a creative mind at an early age. As a child his favorite class in school was art, which he pursued through high school, entering many local and regional competitions including acceptance in the Pennsylvania Governor's School for the Arts. He enjoyed working on set design for many school plays and musicals as well.
Jeff went on to attend Penn State, where he received Bachelor of Fine Arts (B.F.A.) degrees in both sculpture and ceramics. During an interim between classes, Jeff took an interest in custom framing, finding employment in two local frame shops before coming to work with John at The State College Framing Company & Gallery in July of 2001.
"I love that this job allows me to be creative as a profession as well as be part of the local arts community." – Jeffrey Muthersbaugh